Founder's Vision
Shohei Sasakawa Managing Director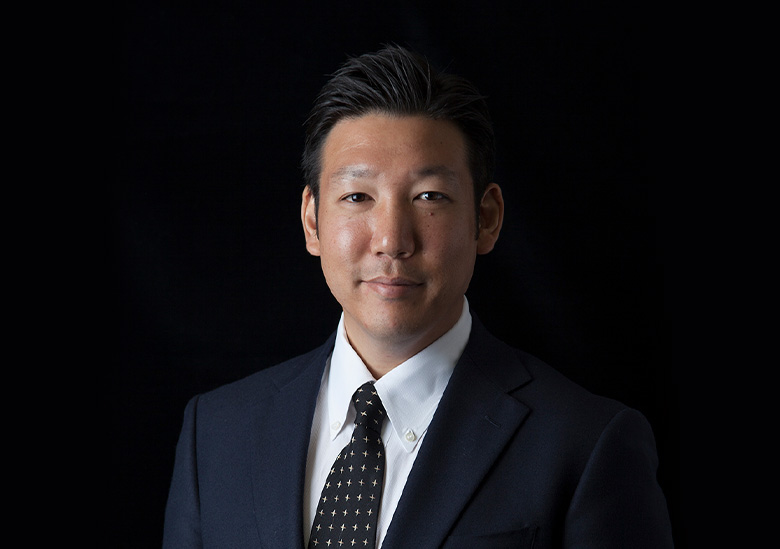 My family, the Sasakawas, launched a sake brewery in Minoh, Osaka Prefecture, in the Edo period (1603–1867). This business stayed in the family for over 100 years, until my grandfather, Ryoichi, set off in a different direction. Both he and my father, Yohei, devoted themselves to endeavors for the betterment of society, seeking to contribute to Japan's growth as a nation.
Back in my college days, I became infatuated with rugby, a passion that drew me to the culture of the birthplace of that sport, the United Kingdom. Once, on a visit to Scotland, I had my first sip of aqua vitae and was amazed by its rich flavor. It was a life-changing encounter that filled me with the desire to become a whisky distiller. Afterwards, I toured numerous distilleries to study how whisky's flavor is woven from earnest dedication to the whisky making process and from harmony with nature.
I, Shohei Sasakawa, have opened up the Fujisan Distillery in Fujiyoshida to return to our family's roots in liquor making. Here, we produce Japanese whisky in the bountiful natural environment surrounding Fujisan, sparing no effort as we leverage Japan's finest whisky making expertise and sophisticated distilling traditions.
Managing Director

Commitment to Artisanry
Our Fujisan Distillery is equipped with wooden washbacks, and pot stills custom-made by Miyake Industries. We will focus on bringing out the potential of yeast and lactobacilli, which engender flavor. Also, we heat the pot stills with direct flame to capture the robust, rich flavor that comes only from that approach. The warehouse is a dunnage type and the casks will be carefully matured until it has a satisfactory taste. Nature of Mt. Fuji creates the single malt whisky.
※Construction scheduled for completion in fall 2022.
※Artist's rendering
What Our Logo & Corporate Color Represent
※Applying for trademark registration
Our logo combines images of Fujisan and the Sasakawa family crest. It embodies our aspiration to craft whisky in harmony with nature, over a very long time.
Our corporate color is a traditional Japanese color called tetsukon (iron dark blue), which originated in the Edo period, the era when the Sasakawas went into the sake brewing business. It is also known as a color of liveliness or victory, and thus expresses our desire to fully activate the yeast we use, as well as our robustly and richly flavored whisky.
Fujisan's Bounty
Land of the Goddess of Water
During the Edo period, the era when my forebears launched their sake brewery, Fujisan was revered by many as an object of worship. The veneration of this sacred volcano is attested by the many contemporary works of art that adopted it as a motif, as seen in Katsushika Hokusai's Thirty-six Views of Fujisan.
Konohanasakuya-hime-no-mikoto, the goddess of Fujisan, is said to have repeatedly quelled its eruptions. Because of this, she was also worshipped as a goddess of water. In an era when humans lived in communion with nature, people came to revere Fujisan as the land of a goddess who quenched its fires time and time again.
Whisky is truly a libation born from harmony with nature. In fact, the word whisky derives from aqua vitae—water of life—and water is a critical element of the whisky making process. We distill Japanese whisky that is brought to life by the natural bounty of Fujisan, the sacred home of the goddess of water.
The underground rivers of Fujisan
Part of the appeal of our Fujisan Distillery is its access to the subterranean rivers that flow from Fujisan. The volcano is cloaked in seven layers of basalt that filter the meltwater from its snowcapped peak over many years, giving rise to spring water that is rich in vanadium and other minerals. The natural water of Fujiyoshida, a city that has long safeguarded its natural environment, is known to be extremely low in contaminants. This mellow soft water, gentle on the palate, accentuates the flavor of whisky.
Bathed in pure, moist air
Fujisan Distillery is located in Fuji Hakone Izu National Park where the 10,000m2 site is filled with clear air purified by a magnificent forest.The elevation of 1,000 meters gives rise to mists that moisten the land and to a climate that is cool even in summer, providing a perfect place to slowly mature our whisky.
Corporate Data
Name

SASAKAWA WHISKY CO., LTD.

Location

Fujisan Distillery:
4918-1 Kamiyoshida, Fujiyoshida-shi, Yamanashi 403-0005, Japan

Tokyo Office:
Room 204, PMO Shibuya II, 3-1-1 Shibuya, Shibuya-ku, Tokyo 150-0002, Japan

Founded

March 2021

Managing Director

Shohei Sasakawa
Visiting Us
Fujisan Distillery
4918-1 Kamiyoshida, Fujiyoshida-shi, Yamanashi 403-0005, Japan
Car

8 minutes from the Chuo Expressway's Kawaguchiko Interchange

Bus

Take an expressway bus to Kawaguchiko Station and then take a taxi (10 min., 5.4 km)

Train

Ride to Fujisan Station and then take a taxi (10 min., 4.3 km)
Tokyo Office
Room 204, PMO Shibuya II, 3-1-1 Shibuya, Shibuya-ku, Tokyo 150-0002, Japan
Train

Our office is a 6-minute walk from Shibuya Station on the JR Yamanote Line, or a 4-minute walk from Exit C1 of Shibuya Station on the Tokyo Metro's Ginza, Fukutoshin, and Hanzomon Lines, or Tokyu's Toyoko and Den-en-toshi Lines.